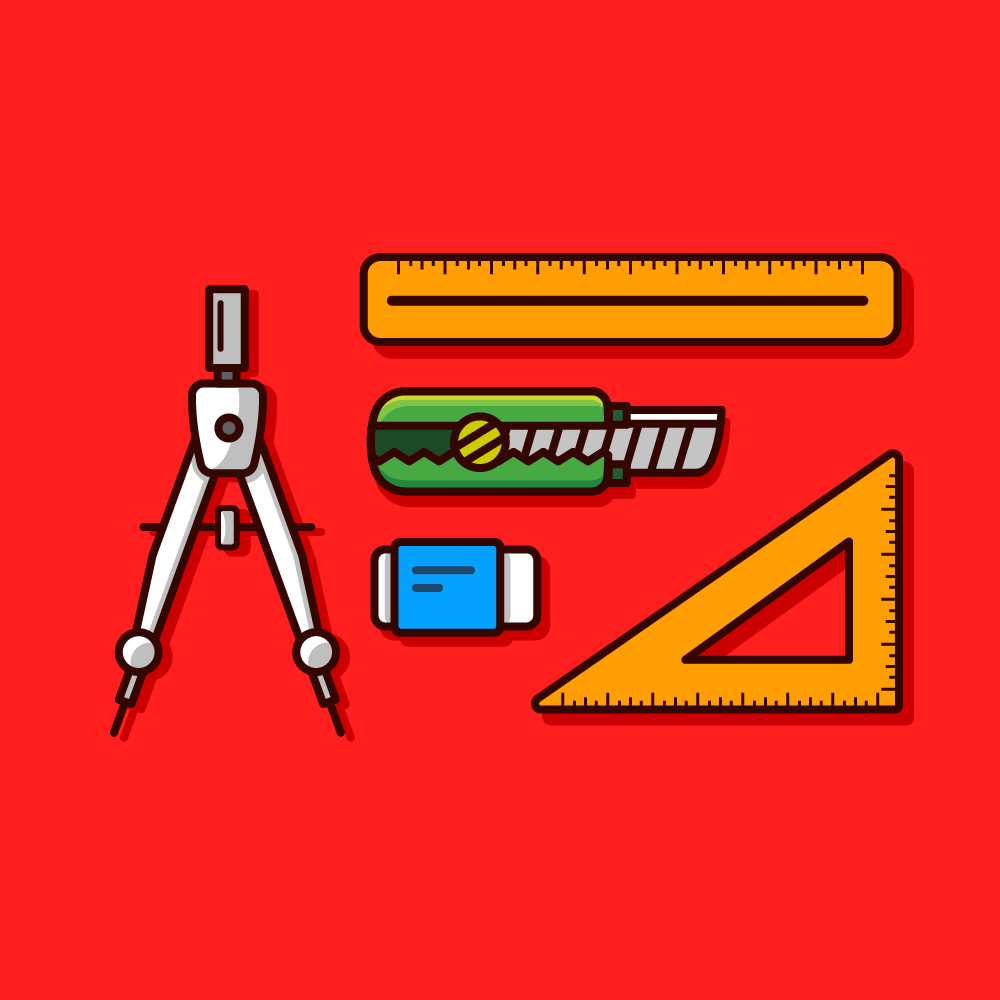 Process documentation can play a central role in standardizing business operations and providing all stakeholders with a blueprint for operational excellence. If you are looking for an effective process documentation template, Folge has the perfect solution. Our platform provides teams with the tools needed to create, manage, and share their processes and knowledge.
This is a game-changer for teams with convoluted workflows. If you are struggling to ensure everyone is on the same page, Folge can help. Our platform enables you to quickly and easily document pivotal processes. Box-standard process documentation templates fail to account for the nuances of your business. They lack the adaptability needed to be truly useful resources.
Folge enables teams to seamlessly craft step-by-step guides and tutorials with screenshots. This makes it easy for new team members to understand processes and get up-to-speed quickly. Existing team members will appreciate having a valuable resource to refer back to when they need a refresher. Basic documentation can eliminate operational headaches.
Before we tell you more about how Folge can support you with the creation of process documentation, let's explore the benefits of using a process documentation template.
Why is a procedure documentation template beneficial?
Operational redundancy
When key team members are absent or unavailable, having operational processes documented can ensure business continuity. With the support of resources documenting processes, you can decrease your dependency on certain team members. If your operations are overly reliant on specific individuals, this could present a significant risk to your business.
Operational consistency
If you want to streamline your business procedures and achieve operational consistency, a process documentation template can help. By having standard operating procedures in place, you can minimize variation and improve the quality of your team's overall output. When you leave room for variation, you invite inconsistency into your workflows.
Business process improvement
By taking the time to carefully define your processes through documentation, you can begin to identify areas for improvement and refine your workflows accordingly. In many cases, simply having a process documentation template can help you see your processes in a new light and identify potential improvements. It all starts with visualizing your processes.
Acquisition requirements
If you want to prepare your business for acquisition opportunities, having well-documented processes is a key differentiator. Buyers are looking for evidence that your business is running smoothly and that they won't inherit a mess. By having strong process documentation in place, you can provide them with the reassurance they need to proceed with an offer.
Risk mitigation
If your business is subject to compliance requirements, you will need to have comprehensive documentation for all of your processes. This will enable you to demonstrate that you are meeting your obligations and help to mitigate any possible risks. An intuitive process documentation tool will enable you to create the resources needed to safeguard your business.
Where can you find a process documentation template?
Rather than trying to shoehorn your business processes into generic templates, it makes more sense to use a platform that enables you to document your processes with complete flexibility. This is why 1,000+ users and businesses leverage Folge to quickly and easily document their processes. It's a truly intuitive solution designed to bring clarity to your workflows.
When it comes to making operational decisions, guesswork is not an option. You need to have confidence in your processes, and that starts with having documentation you can trust. Folge provides you with the tools needed to rapidly capture and organize knowledge. If you are looking for a process documentation template, we invite you to take Folge for a spin.
How can you leverage a process document template?
The right process document template platform will offer the tools required to create a tutorial or guide in a matter of minutes. If you are rocked by an unexpected staff change, you can quickly produce the necessary resources to support a new hire or fill in the gaps for an absent team member. This will help support business continuity and ensure operational consistency.
Creating process documentation doesn't have to be a headache. With the right platform, it is an opportunity to streamline your processes and achieve greater clarity. Folge's desktop solution offers everything you need to get started. If you have been placing process documentation on the backburner due to a lack of time, Folge all but eliminates the need for any time commitment.
What is a good process document example?
Folge has no shortage of export examples for you to browse through. From PDFs and Word documents to rich HTML files, you can customize your documentation to meet the specific demands of your desired file format. If you are curious about the export formats offered by Folge, we recommend taking a look at some of our export examples.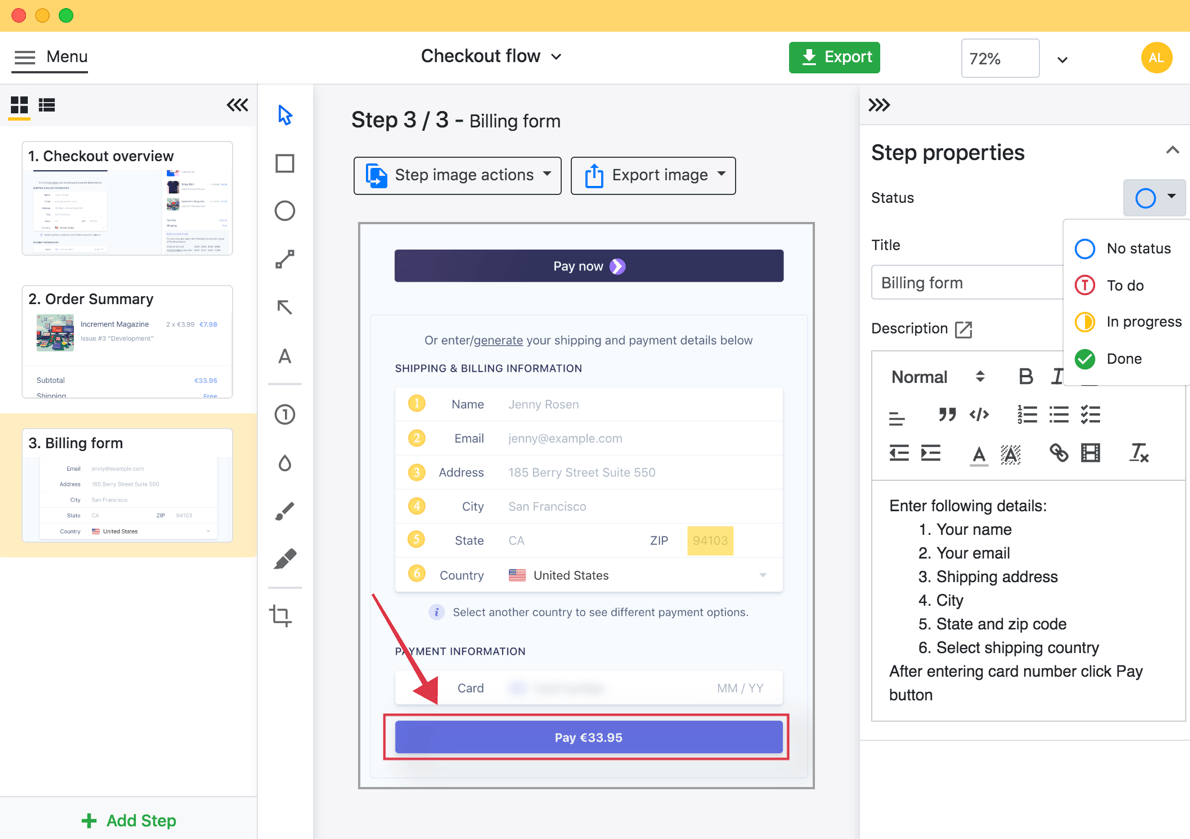 Folge's editor for process documentation.
Developing An Operational Blueprint (Getting Started)
As the gold standard of guide creation, Folge ensures your team is always on the same page — no matter who is leading operations. The goal of our tool is to give you a solid foundation for creating process documentation that will serve as an operational blueprint for your business.
While some businesses may have used tools like Clarify and StepShot in the past, neither of these are still available. Folge is a free process documentation tool - which makes it accessible to businesses and organizations of all sizes. Whether you are a bootstrapped SaaS founder or a growing enterprise, Folge is well-suited to meet your unique documentation requirements.
Frequent users can access unlimited export templates with either a personal or business license. This is available for a one-time fee. Before making any commitments, we recommend downloading Folge for free today. As of the writing date, Folge has 4.9 out of 5 stars and 60 glowing reviews from happy users on Capterra.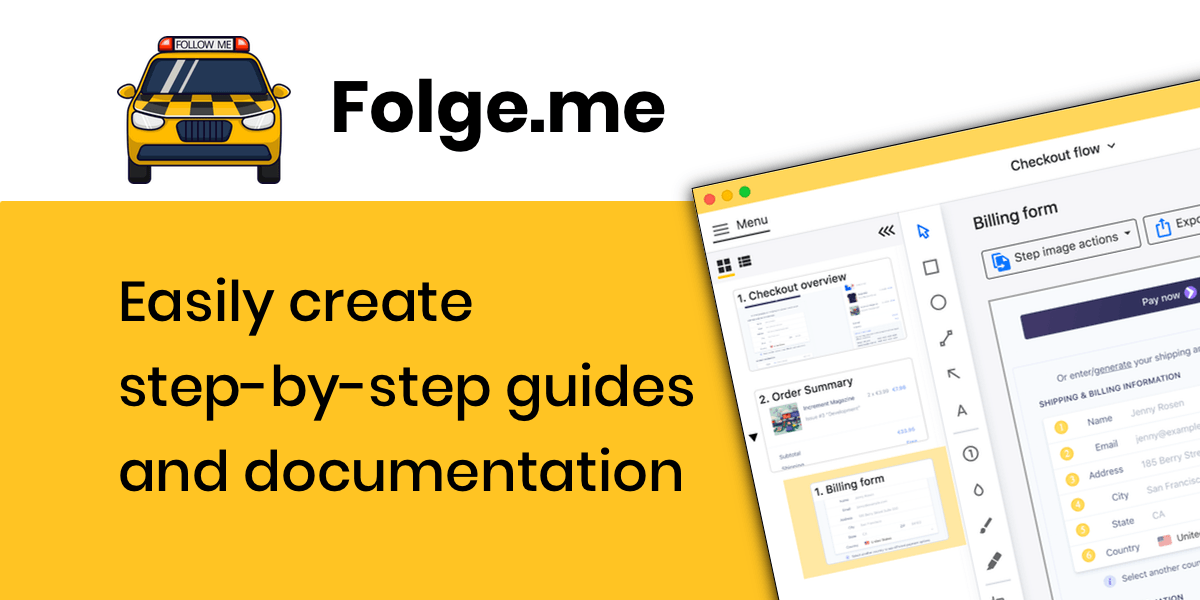 Easily create top notch technical documentation and guides
🏆 Try and use Folge for free forever.
Download now