Comparing Folge.me and StepShot
Let's take a glance at the two apps, and evaluate their feature sets.
Capture, edit and export a user manual
Both Folge.me and Clarify have a similar process for creating training materials. There are three main capturing modes that Folge.me provides: a selected region, full-screen mode, and capturing of the active window. Folge.me has a clear and highly customizable editor, which allows adding description and text, lines, arrows, various forms, easy reorganization and numeration of the slides; blurring and hiding the sensitive information; cropping of the screenshot; exporting & replacing images and many more. After the step-by-step guide is ready, use Folge.me to convert it to PDF, Word, PNG, HTML, and JSON format.
Taking a screenshot with every mouse click
For each project documentation tool or manual guide book a time- and cost-saving solution is a real need. If you are used to having your training manual ready in a few minutes much like as in the StepShot app, you can expect a similar experience from Folge.me. Simply click through to make a step-by-step screenshot guide or customize the hotkeys to take screenshots for greater convenience.
Desktop/web capturing on Mac and Windows
Both Folge and StepShot have their apps available for Mac and Windows, as well as screenshot capturing in your preferred browser or desktop. Additionally, Folge.me plans an upcoming functionality of hiding the desktop icons for those who regularly create software documentation or SOP training materials and would like to have the sensitive info hidden automatically.
Export manual to PDF, Word, PNG, HTML, JSON
Using Folge.me, one may export screenshots to PDF, Word, PNG, simple HTML, rich HTML, and even JSON, which allows them to automate the conversion to any format or third-party tool (for example HelpDesk). StepShot additionally allows export to Video and PowerPoint.
Training manual templates editor
Designing and editing the instruction and training manual templates may be exhausting and time-consuming. While free version Folge.me provides the built-in capability to generate the pre-formatted training manual automatically, the paid version will have the option to customize existing templates into different formats, much the same as StepShot does.
Pricing
While functionality-wise the two apps are rather similar, the biggest differences between them are most significant when it comes to pricing. StepShot orders the monthly subscription for $190/year at the lowest*. Should you get the more advanced features, count on even more expensive yearly price. Unlike StepShot, Folge.me requires only a one-time payment of $80 per license and it will stay lifelong. If you are not a frequent user but need to create the user manuals occasionally, there is a free version available, where you can access almost all the functionality of the paid version with few limitations. *StepShot does not operate anymore since they became a part of UiPath.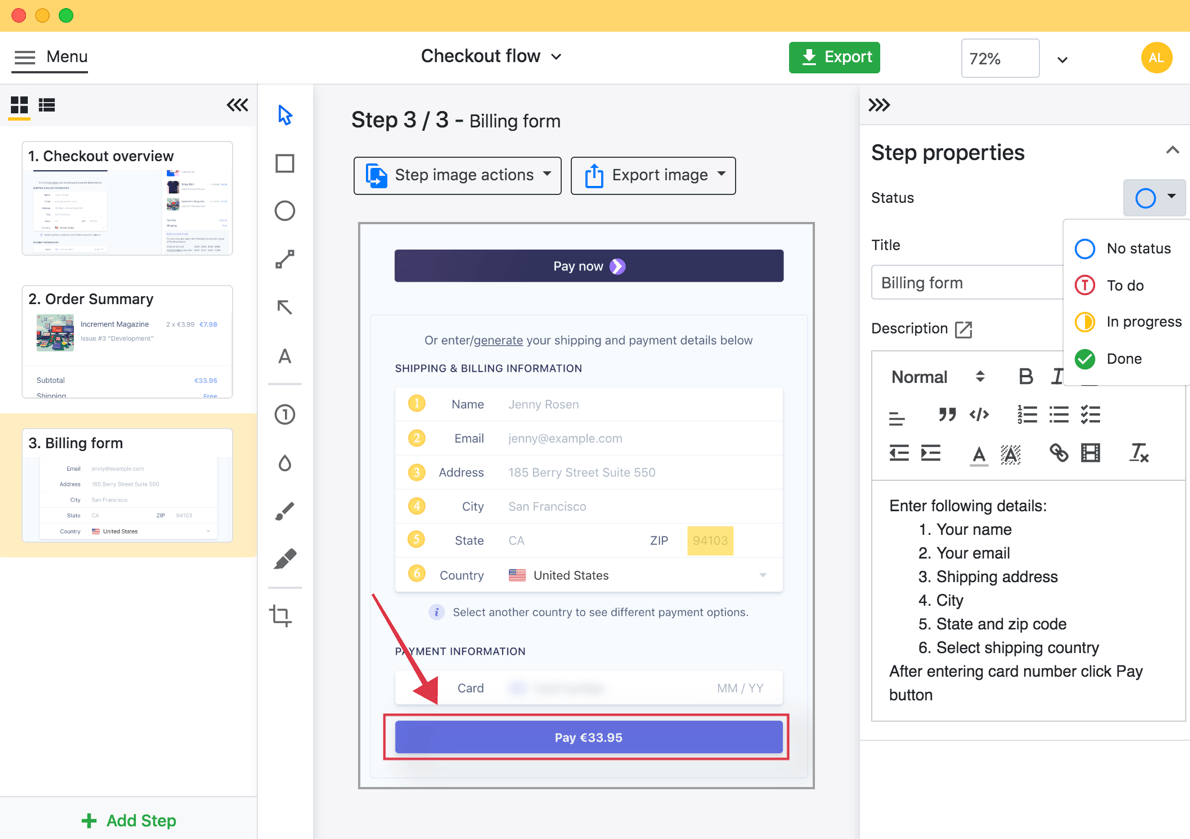 Create documentation using
Folge
, add steps, annotate them and export in many formats.
Summary
If you are looking for an alternative to your favorite step-by-step tutorial creation tool, Folge.me is a good one to consider. Although it does not have all the functionality of the StepShots (like Video format or RPA tools), for its price-value proposition, this is currently the best process documentation tool on the market. Furthermore, Folge.me team is constantly gathering feedback and makes product decisions based on the actual demand and customer needs, allowing each and everyone to have an impact on the tool development. The current roadmap and feature suggestion/voting can be found here https://folge.feedbear.com/
Best Stepshot Alternatives (FAQs)
Whether you want to create a step-by-step guide or a brief walkthrough of a process, screen recording software can make or break the effectiveness of your tutorials. If you want to clearly communicate the steps involved in a specific task or process, you need the right screen recording software in your corner. This is where Folge comes in.
What is the best screenshot software?
If you are looking for the best screen recording software on the market, you should consider using Folge. This user-friendly, feature-rich platform is compatible with both Mac and Windows operating systems. Folge is an excellent option for those looking for intuitive and customizable screen recording software that enables you to seamlessly create step-by-step guides.
Which software is best for screenshots?
Folge stands out as the best software for screenshots due to its automated documentation feature, which takes a screenshot with every mouse click. This time-saving function significantly streamlines the tutorial creation process, making it easy to create a step-by-step screenshot guide and share it with others in a range of different formats, including as a PDF or HTML file.
How do you make a screenshot tutorial?
It's remarkably easy to create a compelling screenshot tutorial with Folge in your corner. The whole process is made straightforward with the automatic capturing process. You can instruct the tool to take screenshots with mouse clicks, hotkeys, or combinations. The solution is highly customizable and comes with everything you need to create genuinely engaging tutorials.
How do you take a screenshot and draw on it?
After capturing a screenshot with Folge, you can easily draw on it using the platform's intuitive and customizable editor. You can add lines, arrows, and various shapes to emphasize important information, clarify instructions, or simply make your tutorial more visually appealing. Upon completion, you can then export your guide in up to 7 different formats, including PDFs.
Comparing Folge & Stepshot
If you are looking for a Stepshot alternative, Folge is well-equipped to meet your needs. This platform makes it easy for you to capture, edit, and export screenshots in visually-appealing guides. This makes Folge perfect for those who need to create compelling guides quickly and share these with others. You can say "goodbye" to a bloated stack of editing tools.
Folge enables you to do all your editing in one place. The entire process is completely painless. You do not need to waste hours capturing and editing screenshots to create a step-by-step guide. Instead, you can use Folge to streamline the entire process and generate an engaging document in no time at all. Are you ready to explore the benefits of this screen capture tool?
Try Folge now!
You can use the app and all features for free or upgrade to the paid version for more features.