Comparing Folge.me and Clarify
How about we take a look at the two applications, and evaluate their feature sets.
Capture, edit and export a user manual
Using Folge.me or Clarify you can create digital training manuals, use them for SaaS and IT documentation or as data visualization tools. Similar to Clarify-it, Folge.me has three main capturing modes: a selected region, full-screen mode, and simple screenshot capturing. Folge.me has an intuitive and highly customizable editor, which allows adding description and text, lines, arrows, various forms, easy reorganization and numeration of the slides; blurring and hiding the sensitive information; cropping of the screenshot; exporting & replacing images and many more. After the step-by-step guide is ready, use Folge.me to convert it to PDF, Word, PNG, HTML, and JSON format. Creating and editing the process documentation in PDF format is easier than ever before with Folge.me and is very valued by our customers.
Taking a screenshot with every mouse click
Unlike Clarify, Folge.me is taking a screenshot with every mouse click. Such an automated documentation tool is much of a time- and cost-saver in the technical writing process. If you are used to having your training manual ready in a few minutes, you can do it with Folge.me. Simply click through to make a step-by-step screenshot guide or customize the hotkeys to take screenshots for greater advantage.
Desktop/web capturing on Mac and Windows
Both Folge.me and Clarify have their apps available for Mac and Windows, as well as screenshot capturing in your preferred browser or desktop. Additionally, Folge.me plans an upcoming functionality of hiding the desktop icons for those who regularly create software documentation or SOP training materials and would like to have the sensitive info hidden automatically.
Export manual to PDF, Word, PNG, HTML, JSON
Using Folge.me, one may export screenshots to PDF, Word, PNG, simple HTML, rich HTML, and even JSON, which allows them to automate the conversion to any format or third-party tool (for example HelpDesk). Eventually, Folge.me will add even more formats aimed to automate the workflow efficiently and reduce the unnecessary manual work.
Training manual templates editor
Making standard operating manual templates may be time-consuming, if you need to work with lots of screenshots and organize them efficiently. While the free version Folge.me provides the built-in capability to generate the pre-formatted training manual automatically, the paid version will have the option to customize existing templates into different formats. Clarify has predefined templates and does not allow editing them.
Pricing
Folge.me is a free process documentation tool with the feature set not lesser than Clarify* . Alternatively, more frequent users can get the advanced unlimited functionality for the price of $80 per license. This is a one-time payment, which stays lifelong and will be enriched with updates, bug fixes and new functionality further on. *Clarify is no longer in service, licenses can not be purchased.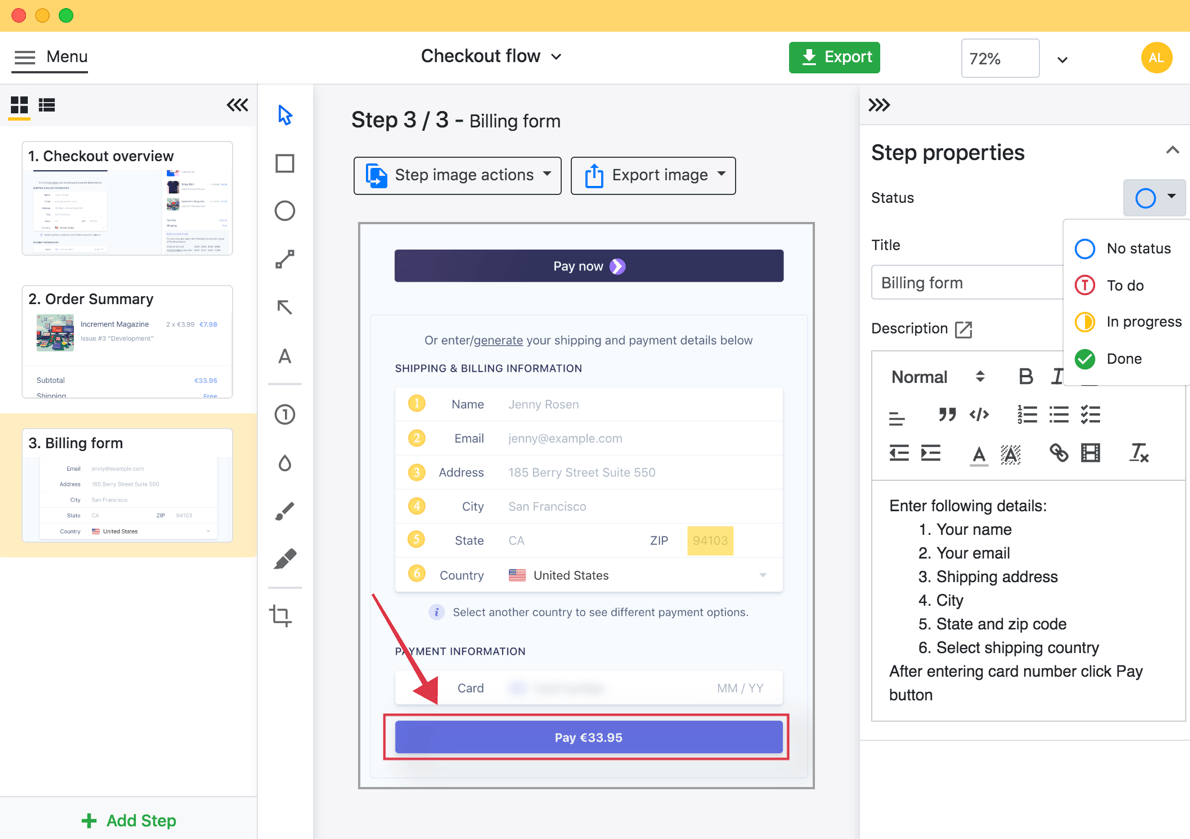 Create documentation using
Folge
, add steps, annotate them and export in many formats.
Summary
Folge.me is a great alternative to your favorite step-by-step tutorial builder software, as it is currently one of the best process documentation tools on the market. Moreover, the Folge team is constantly gathering feedback and makes product decisions based on the actual demand and customer needs, allowing each and everyone to have an impact on the tool development. The current roadmap and feature suggestion/voting can be found here https://folge.feedbear.com/
Try Folge now!
You can use the app and all features for free or upgrade to the paid version for more features.