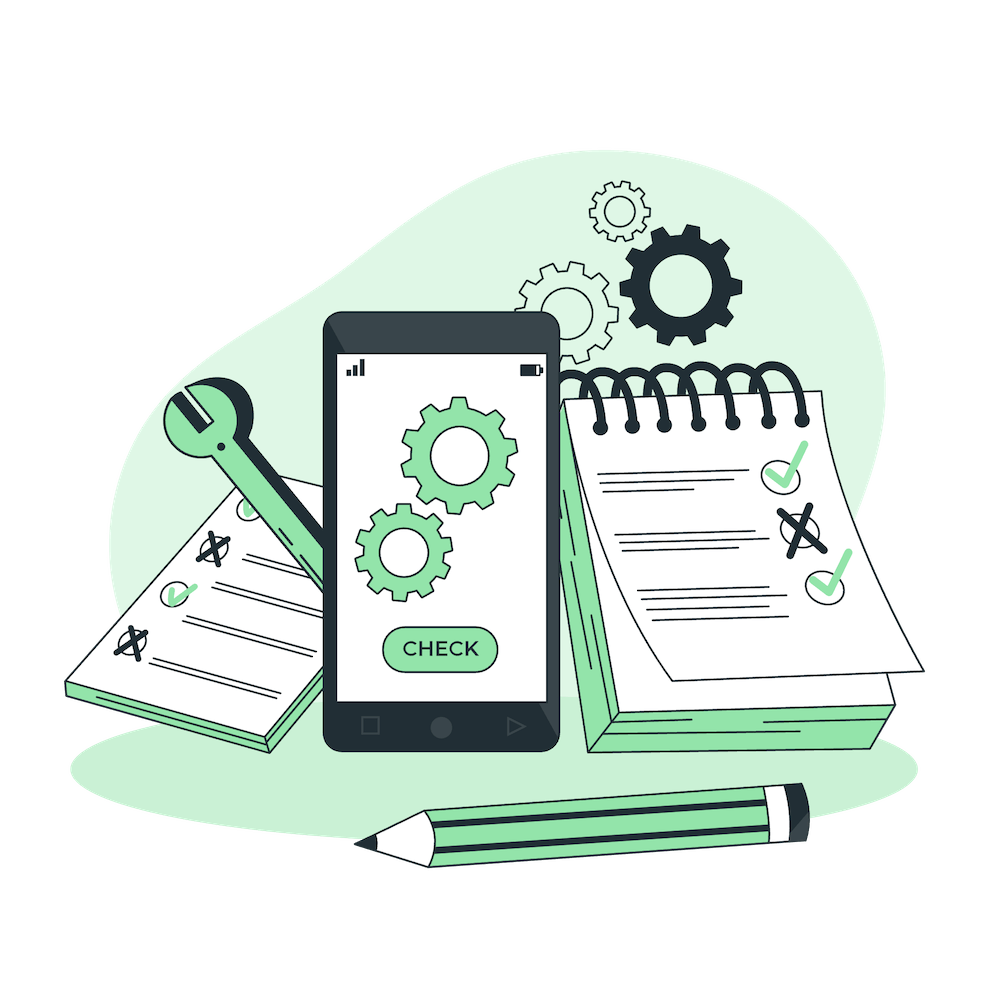 The best documentation tools enable you to create, organize, and update documentation quickly and efficiently. Whether you are creating a user manual or training materials, having the right tools can make the process much easier and enable you to seamlessly produce high-quality content.
When it comes to documentation tools, there are many options available on the market for you to choose from. The key is to find a solution that enables you to rapidly capture your workflows and ideas, organize them in a logical structure, and then quickly share the output with those who need to view the documentation. Here are a few key features offered by effective tools::
Capture workflows with screen capture and recording capabilities.
Organize content into a logical structure that is easy to follow.
Export options for multiple formats, including HTML and PDFs.
Dissect important concepts with different forms of media.
When selecting a documentation tool, it's important to consider how you plan on using it. If you are making something to share with customers, you may want to look for a tool that's capable of producing an engaging design. On the other hand, if you are simply creating internal documents, you may only need a bare-bones solution that doesn't offer many design elements.
Best Documentation Tools (Try Folge)
Flexibility and ease-of-use are two key considerations when choosing a documentation tool. Folge is a modern, lightweight solution designed to help you rapidly capture and organize your workflows in a logical structure for distribution or internal storage. Folge is feature-packed with everything you need to quickly create comprehensive documentation.
Folge enables you to effortlessly capture your screen and add annotations to break down key processes and create genuinely helpful content for readers. This is ideal for creating tutorials, training materials and user manuals. The platform also allows you to insert images and videos into your documentation, making it easy to communicate complex concepts with visual aids.
Tools For Technical Documentation (Key Features)
When creating technical documentation, it's important to have a reliable and comprehensive tool that can help you quickly capture your workflows, organize them into an easy-to-follow structure, and then share the output with those who need to view the content.
Here are some of the key features offered by Folge:
A modern drag-and-drop interface to build your documentation quickly.
Screen capture and recording capabilities to create visual aids.
Annotate and highlight key processes for added clarity.
Export a range of file types, including PDF, HTML, Powerpoint, and Word.
As a collective, all of these intuitive features enable you to create comprehensive and engaging documentation with minimal effort. Whether you need to create user manuals for customers, internal documents for a team, or training materials for onboarding new employees, Folge is an innovative solution that will help you rapidly produce practical content.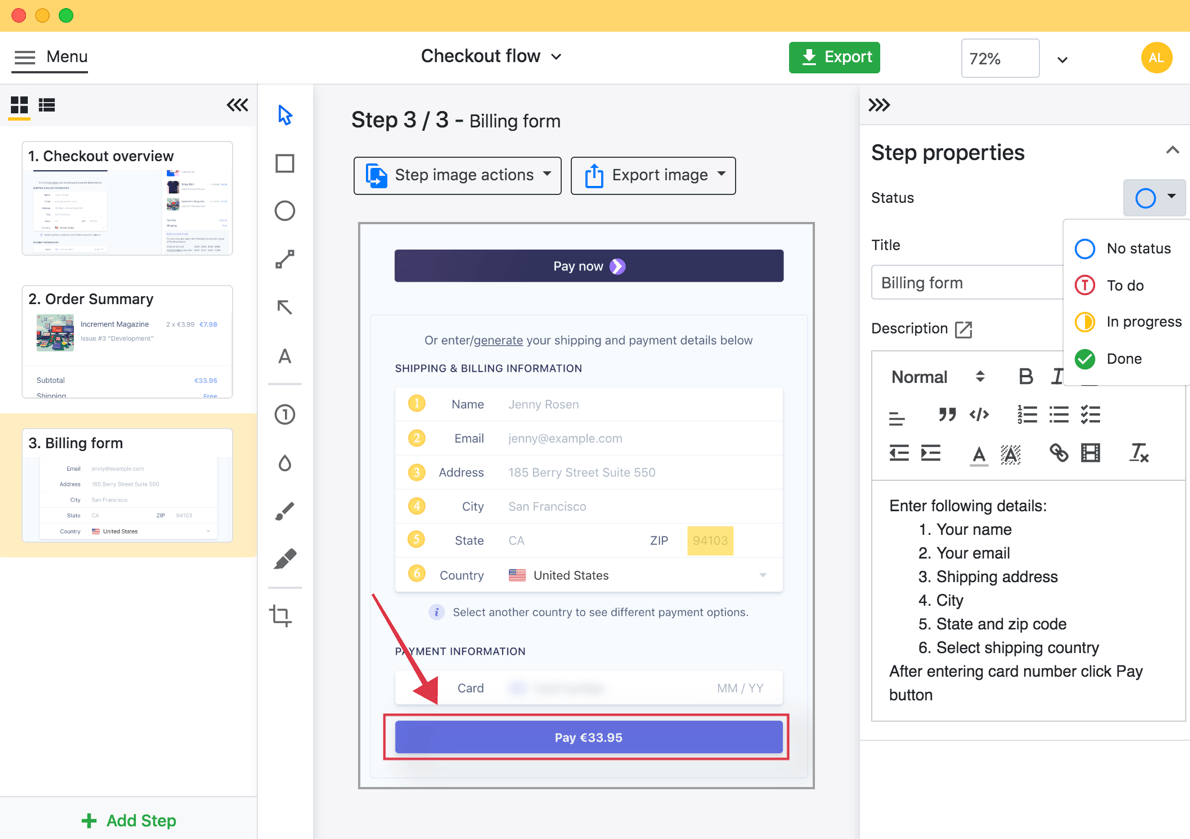 Folge is a perfect tool for creating guides, training manuals and documentation.
Technical Documentation Tools (FAQs)
What tools are used for technical documentation?
Teams are increasingly turning to Folge for creating step-by-step guides and tutorials, user manuals, onboarding resources, and training materials. By leveraging these tools, teams are quickly developing high-quality documents that are easy to understand and follow. There is nothing worse than reading a long, complicated document that is difficult to grasp.
What are examples of technical documentation?
Examples of technical documentation include user guides, tutorials, process manuals, training materials, onboarding resources, and specifications. All of these documents are designed to help explain how something works or how to do something. They provide the reader with a clear understanding of the concepts being discussed and how to take action.
How do you prepare technical documentation?
If you are not sure how to present technical documentation, the best thing you can do is utilize a dedicated platform for creating shareable resources and materials. When it comes to learning how to present technical documentation, a solution like Folge will get your creative juices flowing and enable you to hit the ground running with the document creation process.
What are the four components of technical documentation?
The four components of technical documentation are audience, format, content, and design. Each component is important to consider when creating a document. For instance, when writing for a specific audience, you must think about how they will respond to the information being presented and what you can do to communicate concepts and processes clearly.
Creating technical documentation that consistently meets the needs of users is essential. With Folge, you have all the necessary tools and features to quickly capture your workflows in an easy-to-follow structure and share it with those who need access to the information. You can easily add annotations, images, videos, and more to provide helpful visual aids for readers.
Are you ready to get started? Download Folge for free today.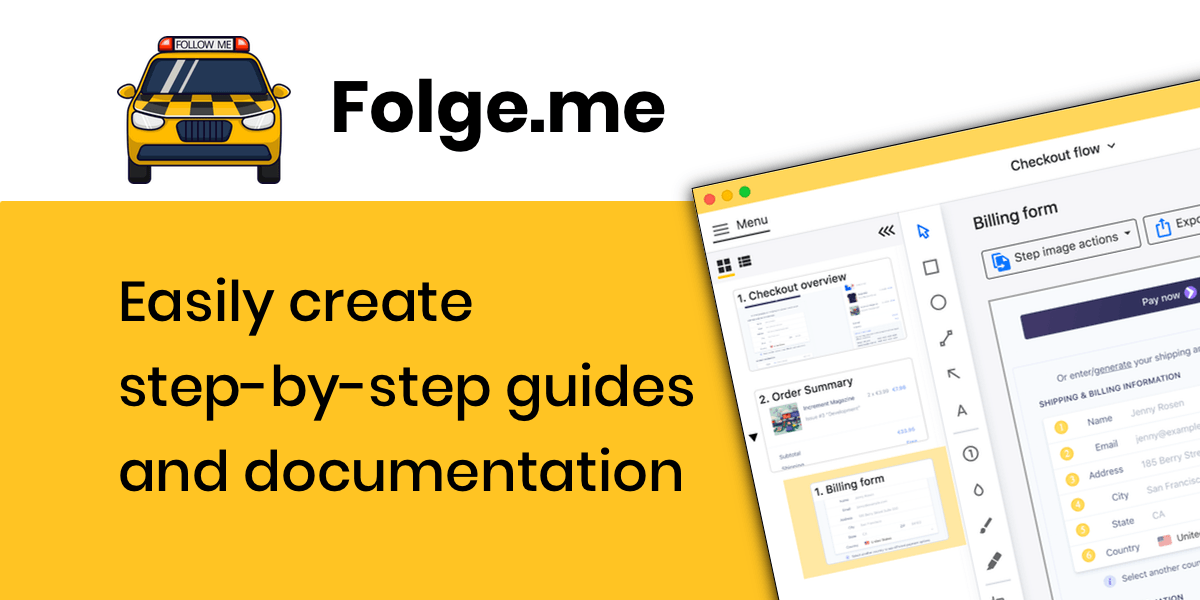 Easily create top notch technical documentation and guides
🏆 Try and use Folge for free forever.
Download now