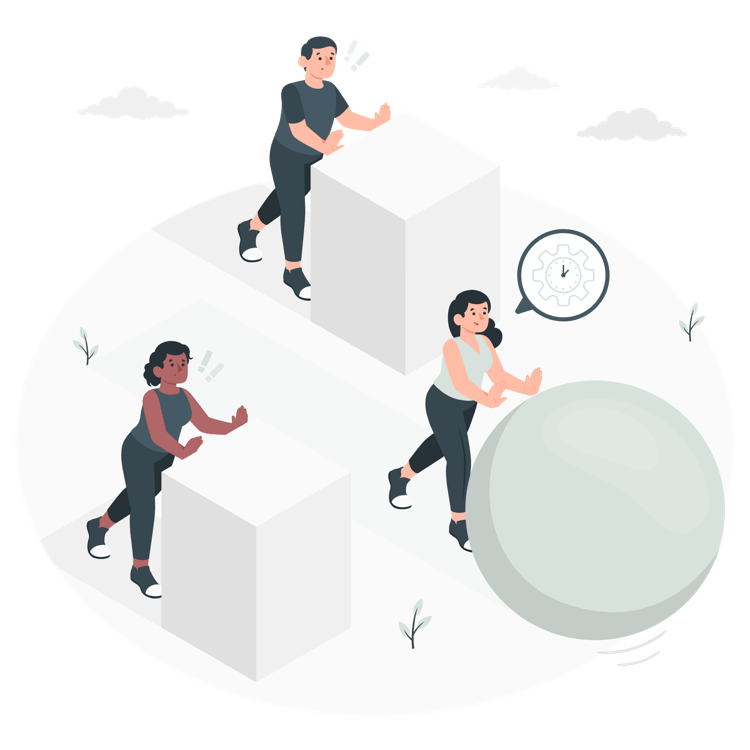 Are you looking to improve efficiency and productivity in your business? To gain a competitive edge, leaders and project managers can focus on ways to refine and optimize their workflow processes. With all areas of your operations firing on all cylinders, organizations can achieve optimal performance levels and successfully iron out operational inefficiencies.
"Most geniuses—especially those who lead others—prosper not by deconstructing intricate complexities but by exploiting unrecognized simplicities." - Andy Benoit
Why does process improvement matter?
Identifying process improvement opportunities is the first step toward achieving greater efficiency. While it's possible to refine and optimize nearly every aspect of your workflows, you should prioritize areas that will have the biggest impact. For instance, processes directly affecting revenue or customer satisfaction are usually good places to start.
How can you identify process improvement opportunities?
Once you've pinpointed a process that requires attention, it's time to roll up your sleeves and get to work. To help get you started, we've pulled together five process improvement examples that can drive efficiency in an organization. Sure, these are not applicable to all organizations, but they should get your creative juices flowing and help you develop a process improvement plan.
5 Process Improvement Examples For Organizations
IT Support
When team members are repeatedly faced with technical issues, it can quickly lead to frustration and a loss of productivity. One way to combat this is by establishing an IT support desk or help center within your organization. By centralizing all technical issues in one place, you can more easily resolve problems and prevent them from happening again in the future.
This will free up your customer success team to provide more in-depth support to those who need it most while still ensuring that everyone gets the help they need to be successful. A solution like Folge can play a pivotal role in building and maintaining a customer success knowledge base. In other words, Folge helps customers help themselves.
Onboarding
New employees often need a crash course on company culture and values, as well as an introduction to the way things work around the office. While this process is time-consuming, it's necessary to ensure that everyone is on the same page and working toward common goals. One way to streamline onboarding is through extensive process documentation.
You can use Folge to create quick, easy-to-follow guides that cover all the basics. From company policies to IT procedures, you can ensure that new employees have all the information they need to hit the ground running. With a well-documented onboarding process, you can save time and energy while still providing a great experience for new hires.
Education
There's a place for process improvement in classrooms. Teachers can use process documentation tools like Folge to improve lesson execution and create a more efficient learning environment. By documenting best practices and creating templates, teachers can develop lesson blueprints and standardize the way they deliver instructions.
This not only saves time but also ensures that students receive a consistent education, no matter which teacher is leading the class. To standardize the learning experience, you should embrace process documentation in the classroom and equip students with the necessary tutorials for success. Folge is the perfect delivery method for explaining complex processes.
Business Documentation
While process documentation is often thought of as a way to document internal procedures, it can also be used to improve communications with clients and partners. If you find yourself repeatedly explaining the same concepts to different stakeholders, it's time to put it in writing. Creating process documentation for stakeholders helps get everyone on the same page.
By creating quick reference guides, you can avoid costly misunderstandings and speed up decision-making. When it comes to business, clear and concise communication is essential for success. You can use Folge to create process documentation that will help you close more deals and nurture healthier relationships with clients and partners.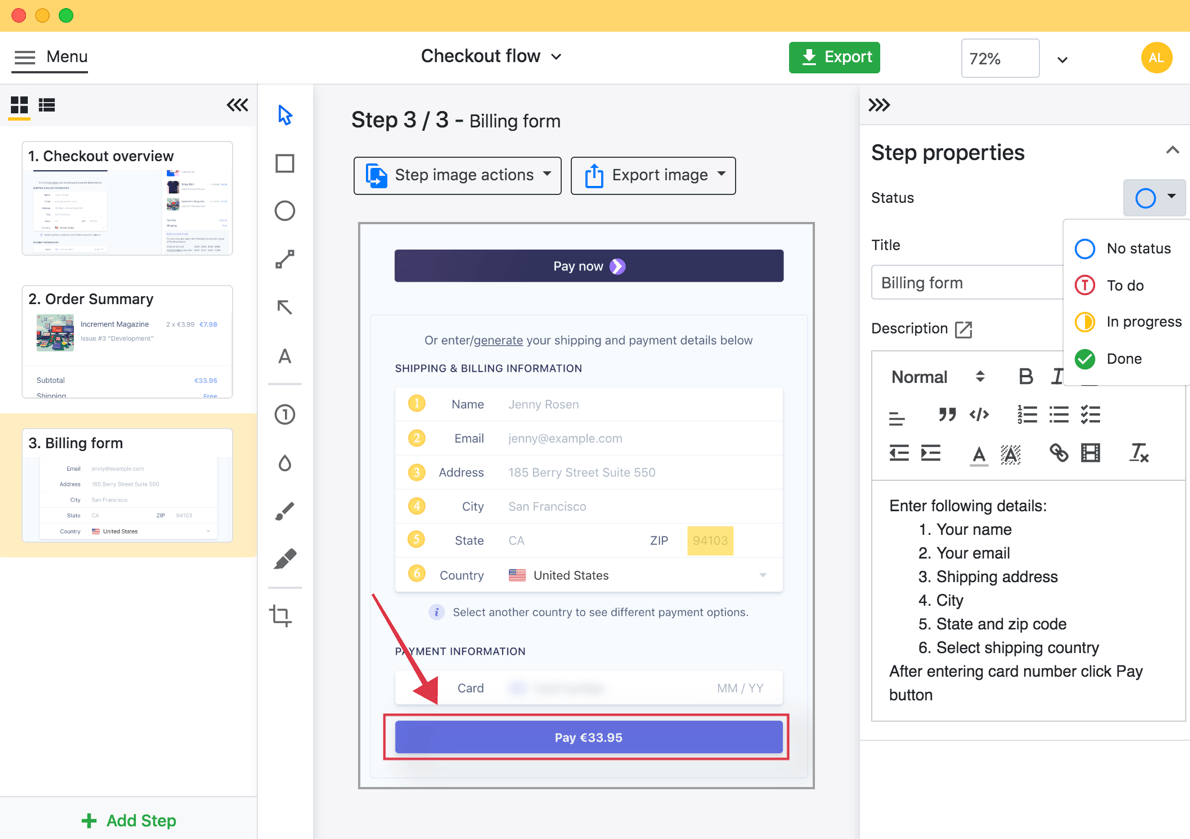 Folge is a perfect tool for creating guides, business documentation and more.
Process Improvement Ideas (Getting Started)
With Folge, you can easily create process documentation for any type of business interaction. From internal procedures to client-facing processes, Folge offers the necessary tools to seamlessly develop and share process documentation. 1,000+ users are using Folge for capturing and organizing knowledge. It's perfect for sharing key business processes.
If you are trying to scale a business or organization, plenty of process improvement ideas are likely to spring to mind. The best thing you can do is prioritize these based on the potential impact they could have on customer experiences and your ability to drive revenue growth. Process documentation is often an effective way to identify areas of improvement.
Whether you are a bootstrapped founder or work as part of a large organization, you can get a business or personal license for a one-time fee. The best bit? You can download Folge for free today without making any commitments. As of the writing date, Folge has 4.9 out of 5 stars and 60 reviews from happy users (from across a range of sectors) on Capterra.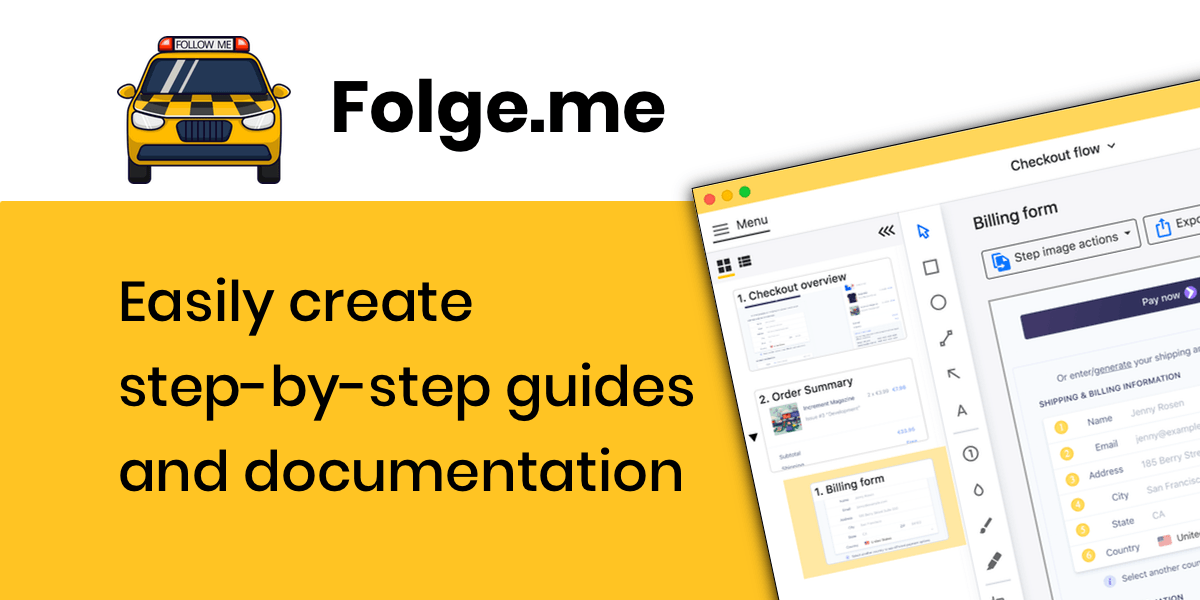 Easily create top notch technical documentation and guides
🏆 Try and use Folge for free forever.
Download now