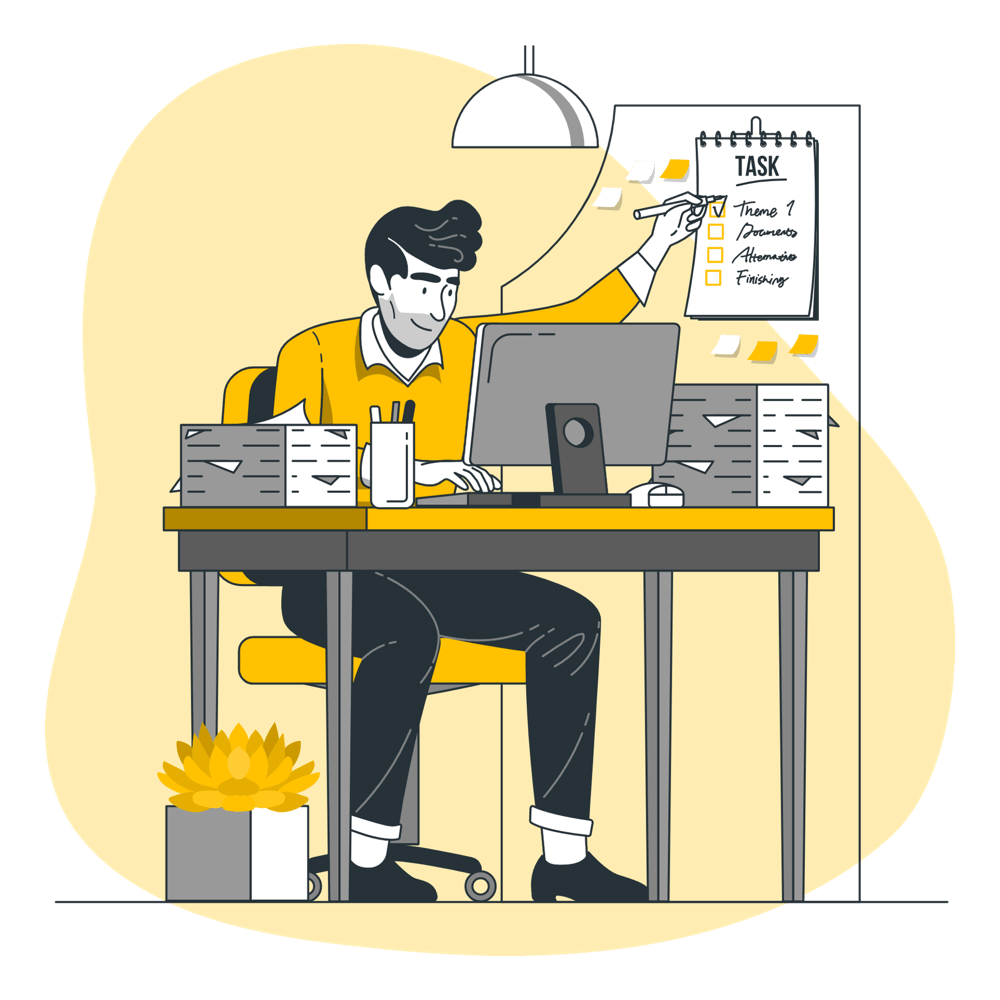 Are you looking for a step-by-step instruction template? You've come to the right place.
Straight off the bat, a step-by-step instruction template should include the following:
A range of photos or screenshots for each step.
A clear description of what you aim to achieve.
A format that is easily digestible.
A handful of links for additional information.
An ordered list to summarize all steps.
When it comes to handing over or delegating work, step-by-step instructions are crucial to ensure that the task is carried out correctly.
The best way to get started is by using a template. This will give you a solid foundation on which to build your own instructions. Inevitably, this will also save you time in the long run. Once you have a template, simply fill in the blanks with your own content.
Inevitably, this will also save you time in the long run. Once you have a template, simply fill in the blanks with your own content.
A web application for creating step-by-step guides using screenshots will enable you to create a template in no time at all.
How To Create A Step-By-Step Instruction Template
To create a step-by-step instruction template, you should use a platform that enables you to quickly produce tutorials and step-by-step guides. With all the tools you need in one location, you can easily add screenshots, videos, and text to your instructions. Once you're happy with the results, you can then share your guide with others in a range of formats.
For instance, using Folge, you can share step-by-step guides in a variety of different formats, including PDFs, rich HTML files, and Microsoft Word documents.
You can use Folge to capture your Windows or Mac screen to create a step-by-step guide.
With Folge, you can do the following:
Capture your screen with mouse clicks and keypresses.
Choose to delay the capturing of screenshots.
Collect a sequence of screenshots all at once.
Pick whether you capture the entire screen or a certain part.
Template For Step-By-Step Instructions (5 Key Components)
If you're looking for a template for your step-by-step instructions, be sure to include the following five key components:
1 - Catchy title
The title of your guide will be the first thing that people see. As such, it's important to make it count. Use a title that accurately reflects the content of your guide, while also being eye-catching and attention-grabbing.
Sure, it's not the most important part of your guide - but if you are trying to encourage employees or customers to engage with your content, a catchy title is a good place to start.
2 - Brief introduction
A brief introduction will set the stage for what's to come and explain the purpose of your guide. It doesn't need to be anything too long or complicated - just a couple of sentences that give the reader an overview of what they can expect.
You should highlight the things the reader will need to complete the process or task. From software solutions to physical equipment, it's important to list everything here so that the reader knows what they need to get started.
Actionable Tip: Start with a question or a relatable scenario. For instance, "Ever wondered how to get started with XYZ software?" This approach engages the reader right from the get-go, making them more likely to proceed with the guide.
3 - Tips for success
By setting the reader on the right path, you can increase the chances of success. After all, if they know what to do and what not to do, they are more likely to achieve the desired outcome.
Include a few tips for success in your guide - these could be general tips, or specific pointers that relate to the task at hand. Either way, make sure that your tips are clear and concise.
Actionable Tip: Use bullet points or numbered lists for clarity. Readers often skim content, and presenting your tips in a digestible format ensures that they grasp the essential details. Consider using icons or graphics to emphasize each tip visually.
4 - Screenshots
No digital tutorial is complete without some screenshots to guide the reader through the process. Screenshots are especially important if you are dealing with software since they provide a visual guide for the reader.
You can take the reader through each step of the process, highlighting key points along the way.
5 - Conclusion
A conclusion is an opportunity to summarize the key points of your guide and leave the reader with something to think about.
From key considerations to take into account to troubleshooting advice, a conclusion is a great way to wrap up your guide and ensure that the reader has all the information they need to take the reins.
For instance, if your step-by-step guide is designed for employee onboarding, you could add a personal touch to the conclusion by wishing the reader all the best in their new role.
If you are creating a step-by-step guide for SaaS product users, you might want to provide some additional resources that they can use to get the most out of the SaaS solution.
A simple step-by-step guide can help users unlock value from your product quickly. With the right software documentation tool, you can create engaging content that will help users become more familiar and comfortable with your product faster. When it comes to engaging users and inspiring activation, nothing beats an intuitive user manual or quick-start guide.
Actionable Tip: Recap the primary objective and outcome of following the guide. Then, consider posing a reflective question or encouraging feedback. For instance, "Did you find this guide helpful? Let us know how we can improve." This not only wraps up the content but also opens a channel for user feedback and engagement.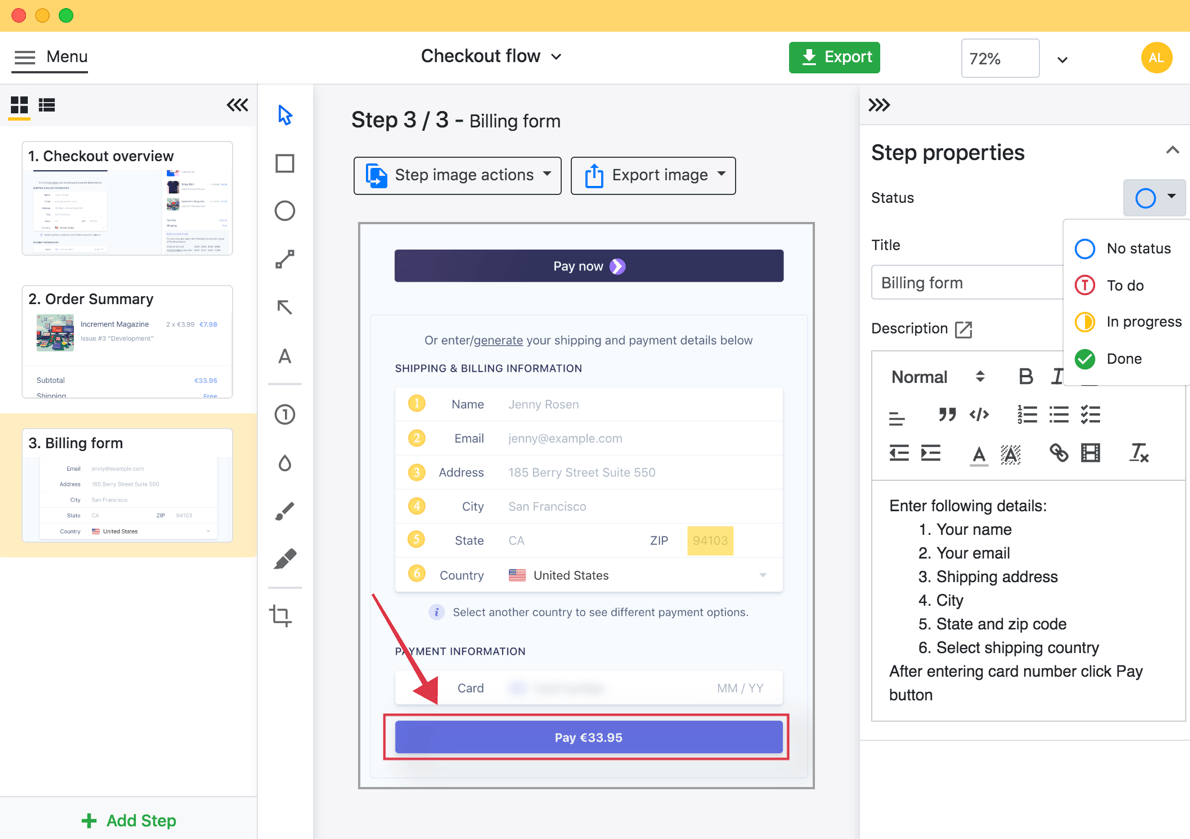 Folge is a perfect tool for creating guides, training manuals and documentation.
How To Make A How-To Guide (5 Additional Tips)
Creating an effective how-to guide can be a game-changer for your readers or users.
Whether you're breaking down complex tasks or offering step-by-step instructions for a particular process, these tips will ensure your guide is easy to follow and provides value.
Here are a few further tips to keep in mind when creating your own how-to guide:
Utilize a platform that enables you to create how-to guides.
Amass a selection of screenshots for inclusion in the guide.
Consider ways to remove steps and shrink the process.
Edit and revise the how-to guide for extra clarity.
Test the guide on someone who is new to the process.
Let's dive into each of the five tips:
1 - Utilize a Platform Suitable for Creating How-To Guides
Choosing the right platform is essential when creating a how-to guide. A dedicated process documentation platform like Folge offers tools and features specifically tailored for guide creation.
With such platforms, you can easily structure your content, integrate various multimedia, and ensure the guide is accessible across different devices.
2 - Amass a Selection of Screenshots for Inclusion in the Guide
Visuals play a pivotal role in understanding. Including relevant screenshots can help readers grasp concepts quickly and ensures they are following the steps correctly.
Make sure your screenshots are clear, focused on the essential elements, and appropriately annotated to highlight significant areas or actions.
3 - Consider Ways to Remove Steps and Shrink the Process
Simplicity is the key to an effective how-to guide. Evaluate your process and identify any steps that might be redundant or unnecessary.
By shortening the process, you not only make it easier for the reader to follow but also reduce the margin for errors or confusion.
4 - Edit and Revise the How-To Guide for Extra Clarity
Once your guide is drafted, take the time to review and refine it. Look for areas that might be unclear or need more detailed explanations.
An external perspective can also be beneficial, so consider having a colleague or editor review the guide. This process ensures that the language is straightforward, steps are clear, and there's no room for ambiguity.
5 - Test the Guide on Someone Who Is New to the Process
Before finalizing your guide, have someone unfamiliar with the process test it out. Their fresh perspective will help identify any areas of confusion or steps that might need further clarification.
This testing phase is crucial in ensuring your how-to guide is foolproof.
Creating how-to guides doesn't have to be complicated - with a few key ingredients, you can create a guide that covers everything your reader needs to know.
It all begins with using a process documentation platform like Folge.
Using Folge For Step-By-Step Guides
With a drag-and-drop editor, Folge enables you to create new steps on the fly and add screenshots with just a few clicks.
Folge also makes it easy to edit and revise your guide as needed. You can use the built-in rich WYSIWYG editor to communicate your ideas in an unlimited number of ways.
Best of all, Folge is free to use - so why not give it a try today? You can create, manage, and share process documentation in no time at all.
Are you ready to get started? Download Folge for free today.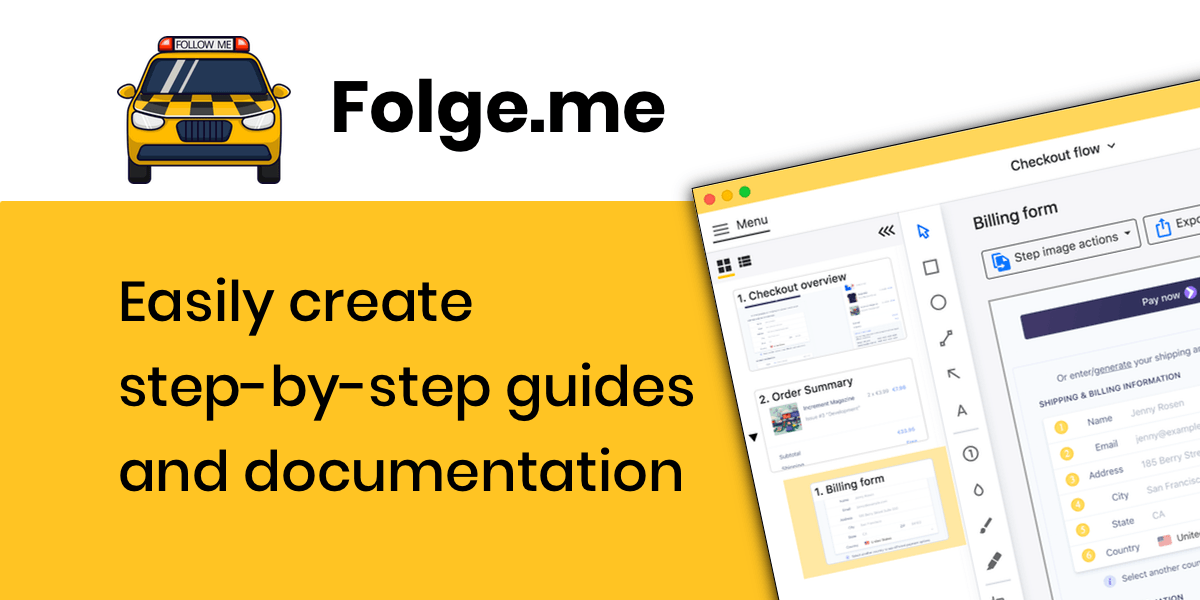 Easily create top notch technical documentation and guides
🏆 Try and use Folge for free forever.
Download now